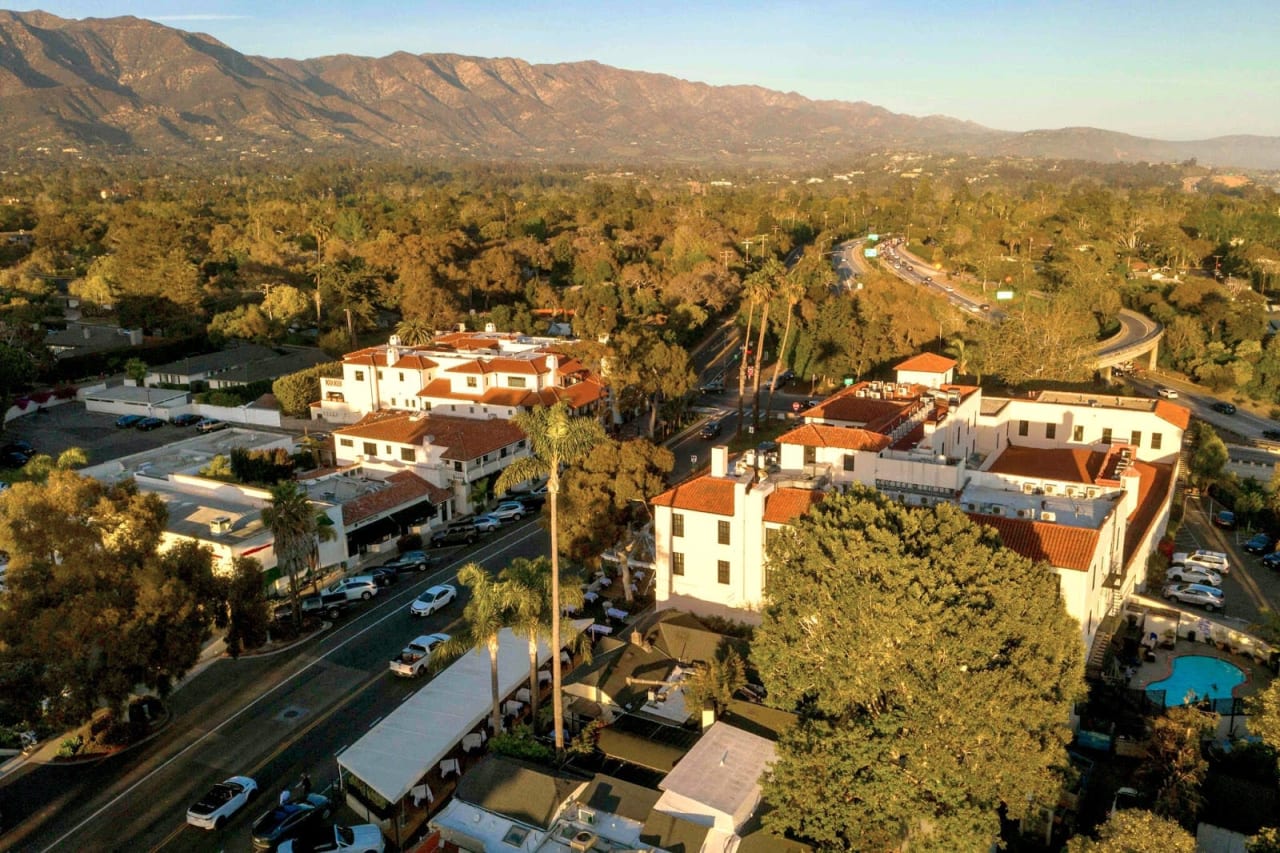 This aerial view shows the commercial center of Montecito.
Credit...David Mcnew/Agence France-Presse — Getty Images
Good morning.
Today, we're starting with a dispatch by Manny Fernandez from Montecito, the edenic Santa Barbara County enclave where — yes, of course, that one — took place:
On a sun-soaked strip of shops and restaurants in one of the most high-end places in America, the only sign anything was amiss Monday was a subtle one.
A wire-service photographer, with two cameras dangling from his neck.
It was the day after The Interview: Oprah Winfrey's exclusive sit-down with Prince Harry and Meghan Markle. Numerous international headlines were generated, but in Montecito — an unincorporated community known as a coastal enclave for the ultrawealthy — it qualified as local news.
One of the world's most famous women interviewed one of the world's most famous couples, in the small town, where all three of them live.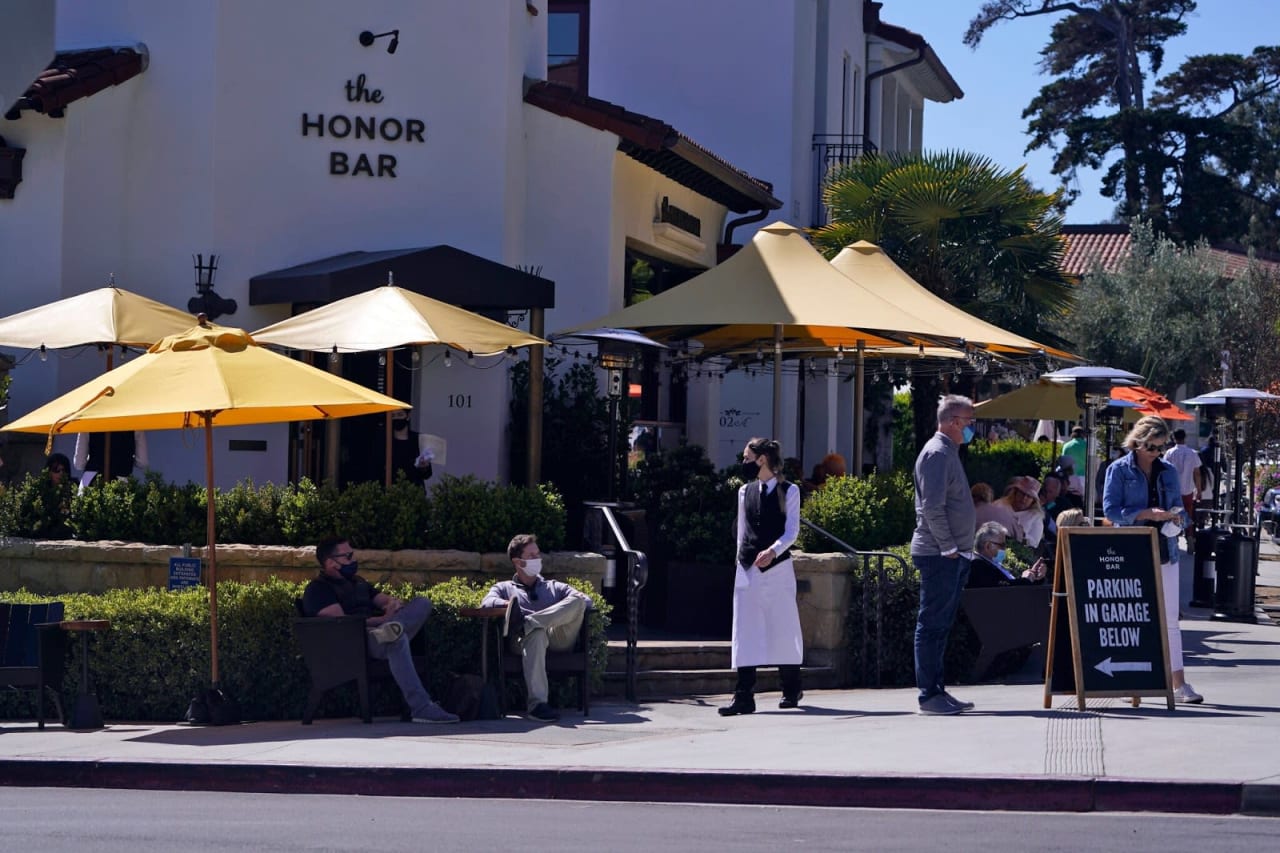 A server tended to diners on a street corner Monday in Montecito, Calif., near the home of Prince Harry and Meghan Markle.
​​​​​​​Credit...Marcio Jose Sanchez/Associated Press
Montecito's reaction to the attention was typical Montecito: muted, nonchalant, chill. Not noticing is a kind of art form here, whether it be the photographer on the sidewalk or the royalty next door.
At the outdoor patio at on Coast Village Road — on a 66-degree afternoon near the , the hotel built by Charlie Chaplin — the late-lunch crowd was thin, but there was no talk of Harry, Meghan or Ms. Winfrey, at least none that could be overheard by a reporter.
"It's now down to 2-9," one diner in a ball cap told his female companion. By 2-9 he meant 2.9, and by 2.9 he meant $2.9 million, a steal when it comes .
Numerous celebrities — Ms. Winfrey, Jeff Bridges, Rob Lowe, Gwyneth Paltrow, Katy Perry and Orlando Bloom — live or used to live in the hilly acreage of Montecito. One of the reasons has to do with the way in which privacy is usually prized and respected. Das Williams, a member of the Santa Barbara County Board of Supervisors whose district includes Montecito, put it another way.
"We don't get all weird on them," Mr. Williams said of celebrity residents. "It's not that we don't notice them. But I think fewer Santa Barbarans accost famous people."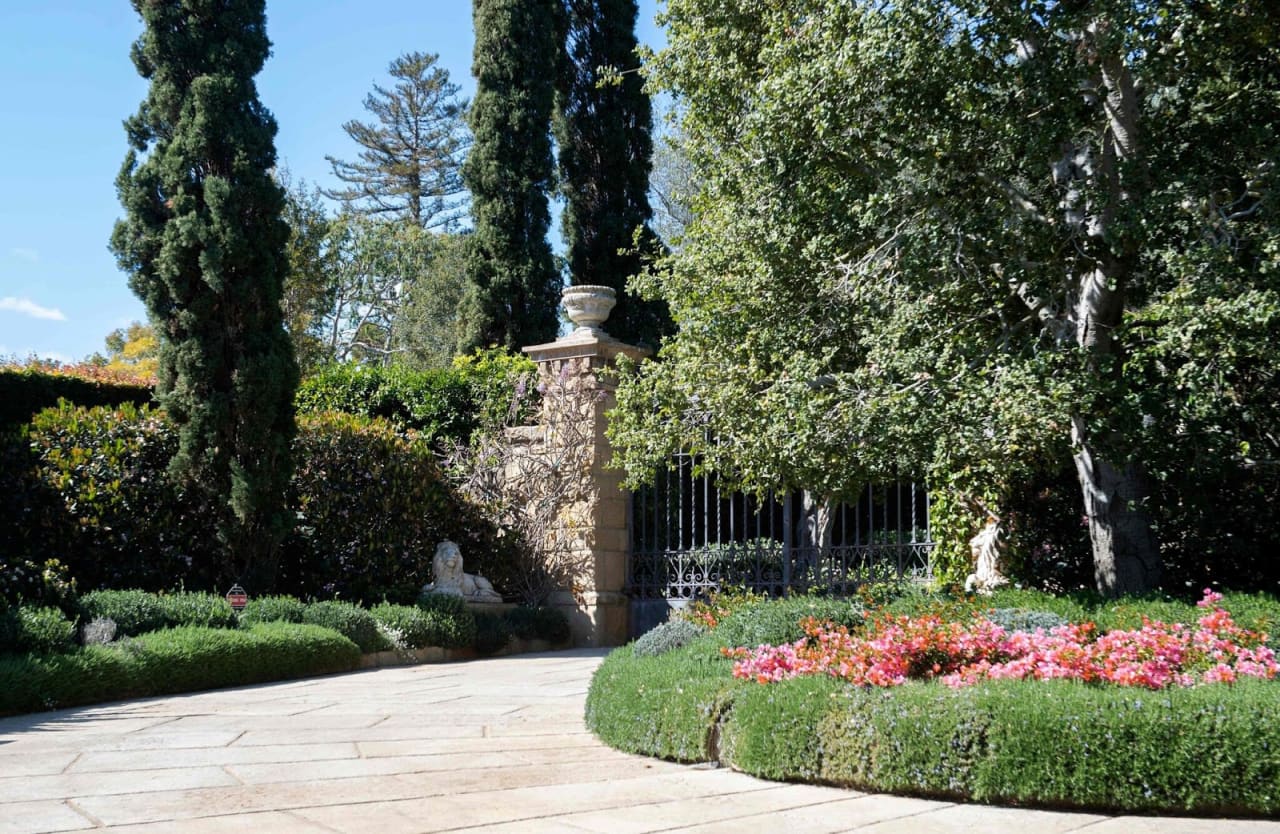 A view of the gate of the estate where Prince Harry and Meghan Markle have their house in Montecito.
​​​​​​​Credit...Valerie Macon/Agence France-Presse — Getty Images​​​​​​​
It is the land of the privacy hedge. And the tall ornate stone wall. And the gated driveway. The homes and estates are purposely tucked away, and are best seen by air in a helicopter than by street from a car, Prince Harry's home included.
"They traded one of the most rarefied places in the world for another rarefied place," said Ann Louise Bardach, an author and former journalist who lives in the adjacent foothills and whose friends include numerous Montecito residents. "I just happened to go hiking where they live yesterday. I went up to one of the trails and so I ended up parking outside by their house."
I asked her to show me around. Ms. Bardach once interviewed Subcommander Marcos, the Zapatistas rebel leader in Mexico, so I figured I was in good hands if we ran into trouble.
Early in the tour, Ms. Bardach braked in the middle of the road.
"By the way," she said, "you're in mudslide country."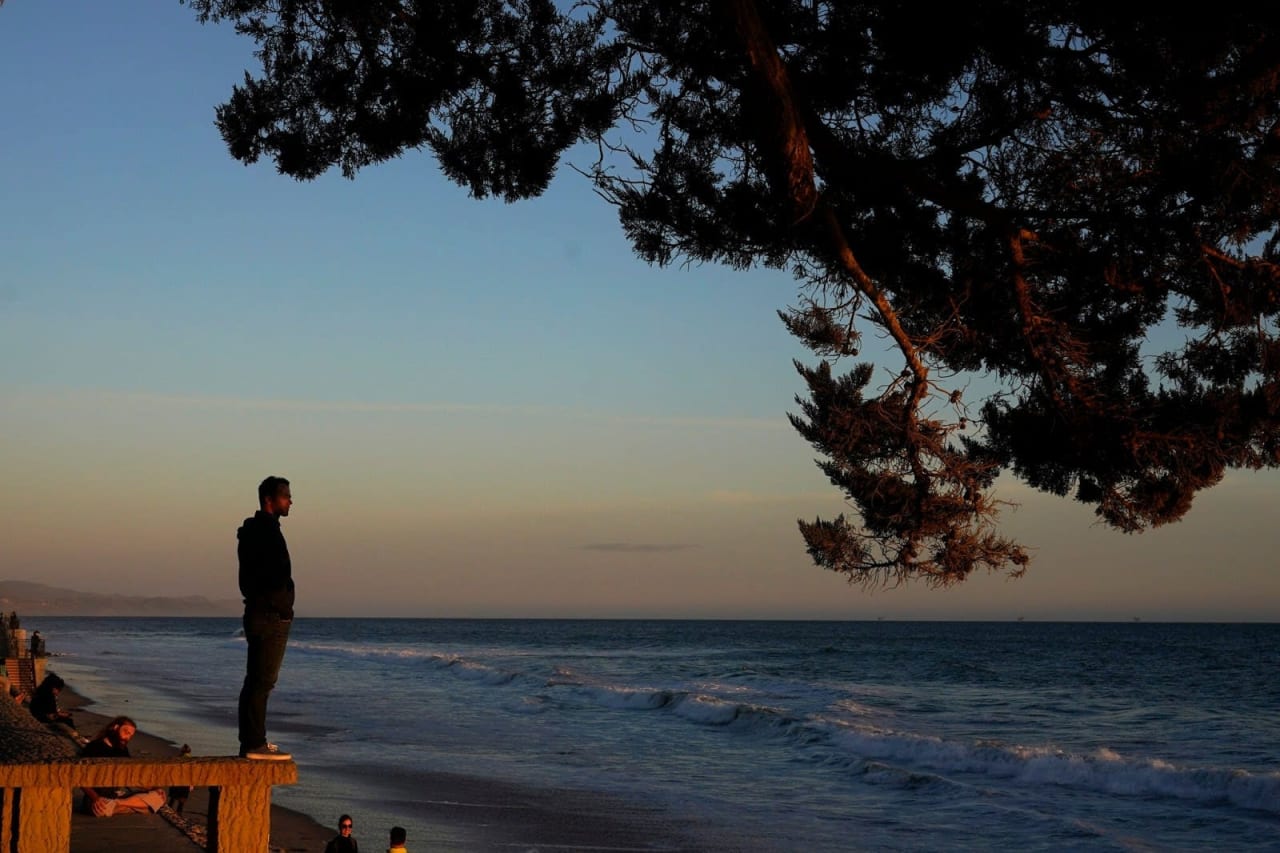 A visitor watched the sunset on Monday.
​​​​​​​Credit...Marcio Jose Sanchez/Associated Press
It was hard to imagine the terror amid such tree-lined tranquillity. She spoke of the date etched into the memories of many in Montecito — Jan. 9, 2018, , killing residents and destroying homes. "Those homes ended up in the sea," she said.​​​​​​​
We headed to the area known by locals as Riven Rock.
The royal couple purchased their home last year , the name of the former 87-acre estate of Stanley McCormick, who was the son of the inventor of the grain reaper, struggled with mental illness and died in 1947.
"Riven Rock was one massive estate," Ms. Bardach said as the car twisted and turned on the narrow, well-hedged roads.
Soon we were there.
[Read about to the interview.]
All was quiet outside the couple's home early Monday evening. No TV trucks. No paparazzi. Construction work at a neighbor's house had paused.
Ms. Bardach has known and loved Montecito's rugged seaside beauty and its knack for philanthropy for decades, though she has been frustrated by its lack of .
A short drive later, the tour resumed.
We drove past Ms. Winfrey's hedges and walls, beyond which, somewhere, was Ms. Winfrey's home. A man on a skateboard zipped by. In true Montecito fashion, he didn't even notice.
Here's what else to know today
"We are working, quite literally, on a green tier," Gov. Gavin Newsom said on Wednesday. []
Catch up on everything going on in the state's reopening. []
The San Diego Unified School Board voted unanimously on Tuesday to rename Junipero Serra High School after students successfully petitioned for the change, saying the name was offensive to Indigenous peoples. []

Black and Hispanic communities, which were hit harder by the pandemic and whose vaccination rates are lagging that for white people, are confronting vaccine conspiracy theories, rumors and misleading news reports on social media. []

Several areas in Orange County were under mandatory evacuation orders on Wednesday after a late winter storm brought rain, causing mudslides in areas that had been hit by the Bond Fire in December. []

Democrats on Tuesday clinched a highly sought Republican seat on the Orange County Board of Supervisors, making it the first time Democrats have held two seats on the five-seat board in decades. []

Several Hollywood bigwigs have been spotted continuing film production in Australia, a country that has effectively stamped out the coronavirus, much to the envy of their American fans. []

This year's Academy Awards nominations will finally be announced on Monday morning. Our columnist expects it to be one of the most diverse Oscar lineups in ages. []
And Finally …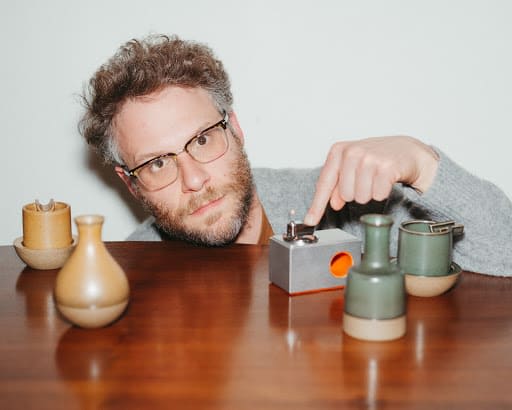 Seth Rogen at the offices of Houseplant, his cannabis company, in West Hollywood.
​​​​​​​Credit...Ryan Lowry for The New York Times
Seth Rogen long ago turned the "ordinary" into a multifaceted Hollywood career as an actor, screenwriter, producer and director. Now, Mr. Rogen — who is known for weed, tweets and his "relatable Everydude persona," as my colleague, Alex Williams, put it — is going commercial.
Mr. Rogen has forged into ceramics during the pandemic, sharing photos on Instagram of the whimsical vases, soap dispensers and ashtrays that he has made. Soon, Houseplant, the Canadian cannabis company he started in 2019, will sell his first commercial ceramic product: a sumptuously packaged ashtray and bud vase set priced at $85 — designed by him, but made in China.
"Honestly, I was surprised at how much I got from it," Mr. Rogen said of ceramics. "It's meditative. It forces you to be very present."