Sebastian Modak, New York Times|
---
Confused in California
Nearing the end of his round-the-world trip, the 52 Places
Traveler was confounded by the Golden State cities of
​​​​​​​Los Angeles and Santa Barbara.
Photographs and Text by Sebastian Modak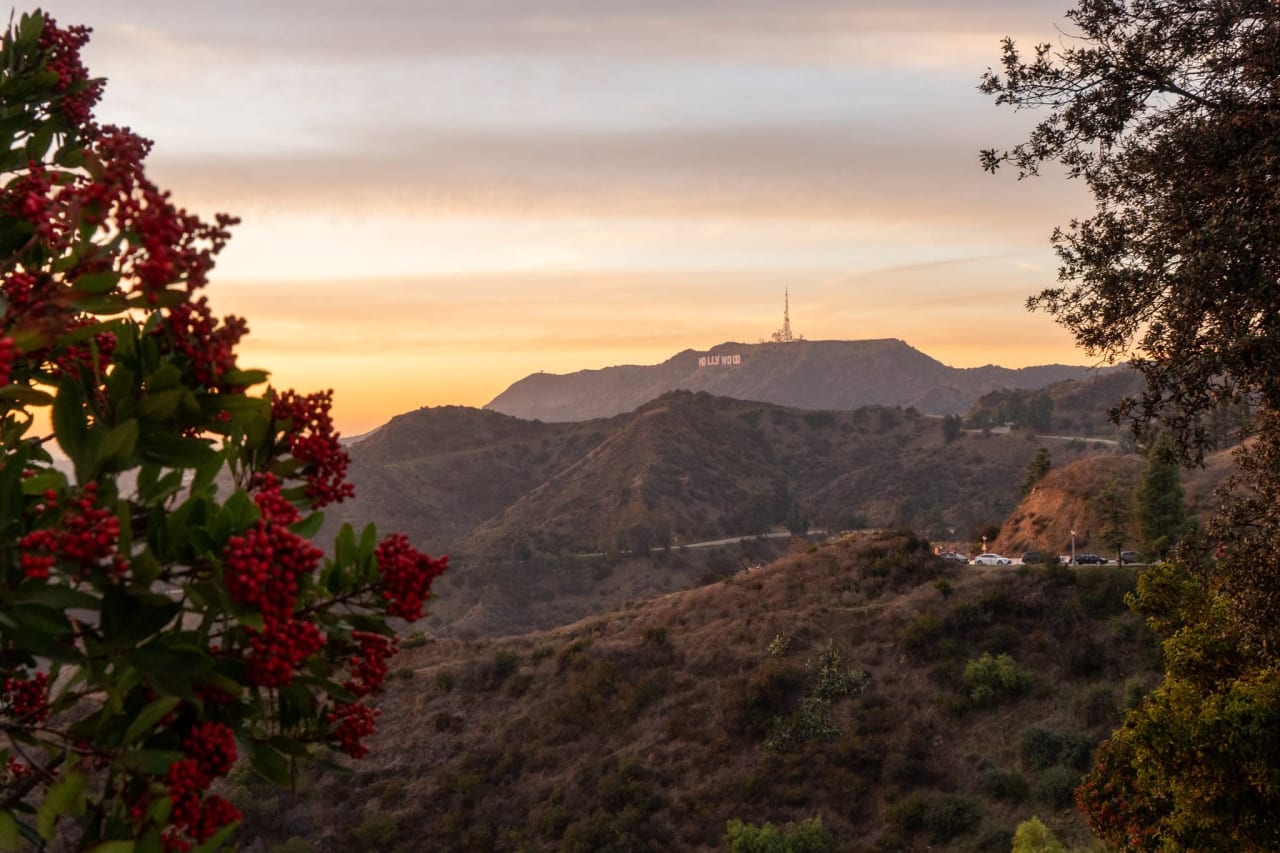 The Griffith Observatory offers panoramic views of the surrounding hills stretching all the way to the coast.
The whirlwind pace of my yearlong trip around the world means I never leave a place feeling like an authority on it. At best, I hope to catch a glimpse of its soul — a collage of impressions and interactions that fit neatly into a narrative. With just three stops and two weeks remaining on my journey, I finally encountered a place where I struggled to find that. I like Los Angeles, but I don't understand Los Angeles.
This was technically my second time in the city, but my first — a one-night stop as a touring musician where I saw little but the Sunset Strip — doesn't count. With just four days to take it in, I was intimidated and baffled the moment I arrived (LAX is a nightmare rivaled only by New York's airports) and remained so until the day I left.
Santa Barbara, where I headed next, was predictably easier to digest. If Los Angeles is a confounding feast Santa Barbara is an amuse bouche. With sunshine glistening off ubiquitous Spanish tilework and a cool breeze coming off the Pacific Ocean, the town is almost too pleasant, like it has been packaged and gilded for maximum enjoyment.
But it too has its nuances: the hole-in-the-wall taco joints that compete for locals' loyalty like sports teams, the winemakers who have come from all over the world to experiment with age-old traditions, the sighting of a whale's spray out of the corner of my eye while shooting down the 101 at 70 miles per hour. The two cities, separated by 95 miles of highway, felt worlds apart.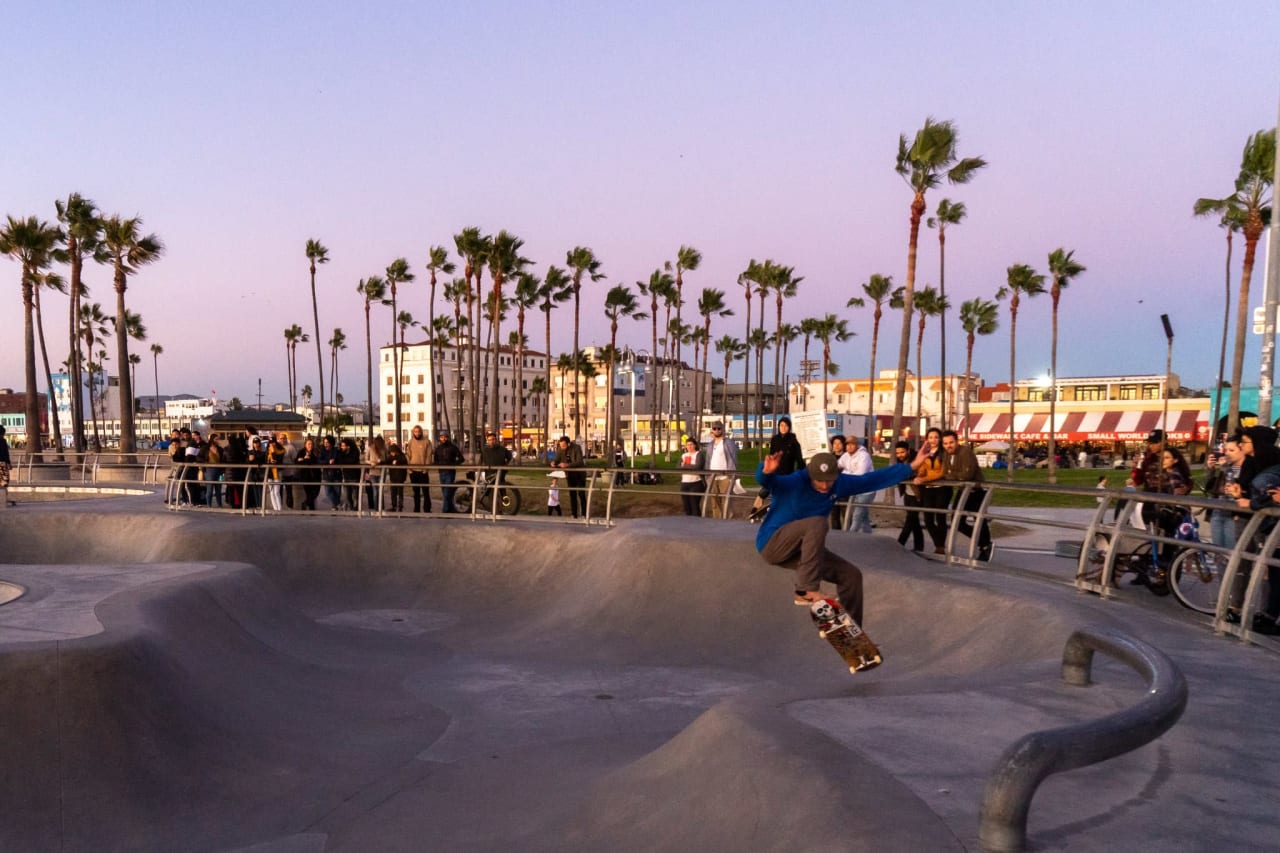 In Venice Beach skaters showed off their moves.
What is Los Angeles?

In Los Angeles, I began my journey on well-trodden tourist ground, taking a traffic-clogged Uber ride from Downtown to Venice Beach. I missed sunset by five minutes, but took comfort in the fact that yes, it is just like the movies. Skaters one-upped each other in the beachside bowl. As I walked along the boardwalk past endless souvenir shops, a longboarder narrowly avoided barreling into me. He was, of course, handsome and shirtless, and wearing headphones that surely must have been attached to a Walkman.

​​​​The reason Los Angeles made the this year was in large part the , which was slated to open this year, seven years after it was first announced. Even saving my visit for the end of the year, I wasn't in luck. It has been delayed again — this time until 2020.
So instead, I almost exclusively followed recommendations for things to see and eat, that came from friends in the city and strangers online. That's how I ended up, on one of my first afternoons, in a strip mall in the East Hollywood neighborhood of Thai Town. At the unassuming , I dug into fiery plates of Isan sausage and garlic-bombed morning glory. It was some of the best Thai food I've had outside Thailand, but it was also illuminating for other reasons.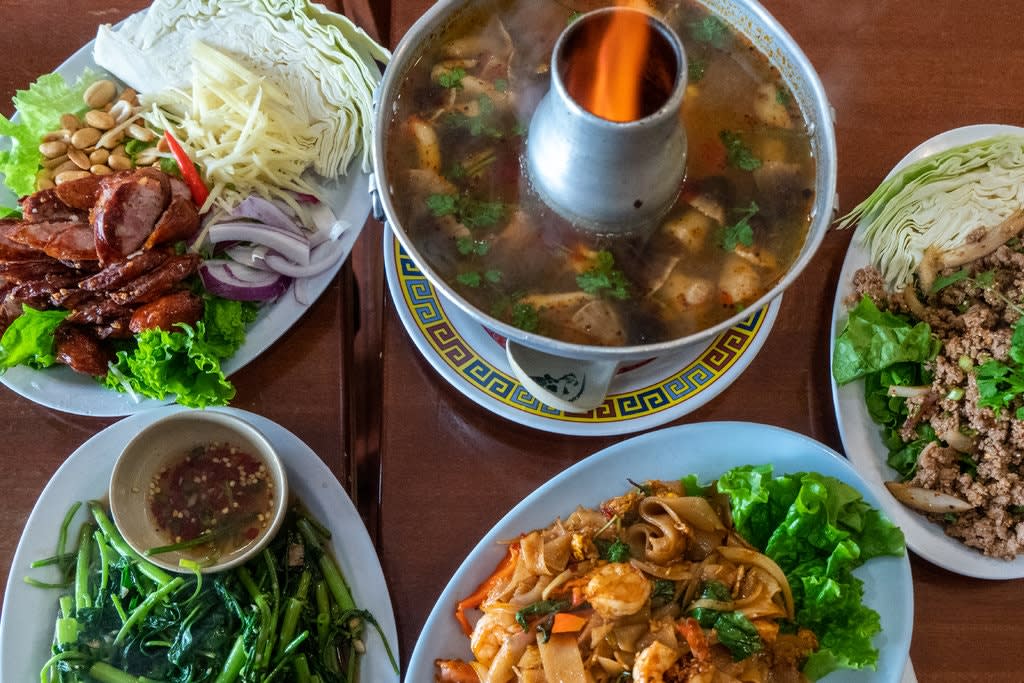 Ruen Pair is an unassuming strip mall spot in the area known as Thai Town.
Hopping between ethnic enclaves in the heart of Los Angeles — Thai Town sits adjacent to Little Armenia and two miles from Little Bangladesh and Koreatown — is a history lesson as well as a gastronomic roller coaster. And to see the way cuisines have bubbled into the mainstream tells its own story of immigration. I was confused by the number of Filipino restaurants I was seeing, like the delicious, hip and cheekily named , until I learned that Los Angeles County is home to almost 400,000 Filipinos.
After a late lunch, I traveled the two miles to , winding up wooded roads until the view opened up. The Hollywood sign, the skyscrapers of Downtown and the Pacific Ocean were all glistening as the sun set and tourists jockeyed for prime spots overlooking the valley. The transition from urban sprawl to natural tranquillity happened so quickly it was as though I'd been teleported.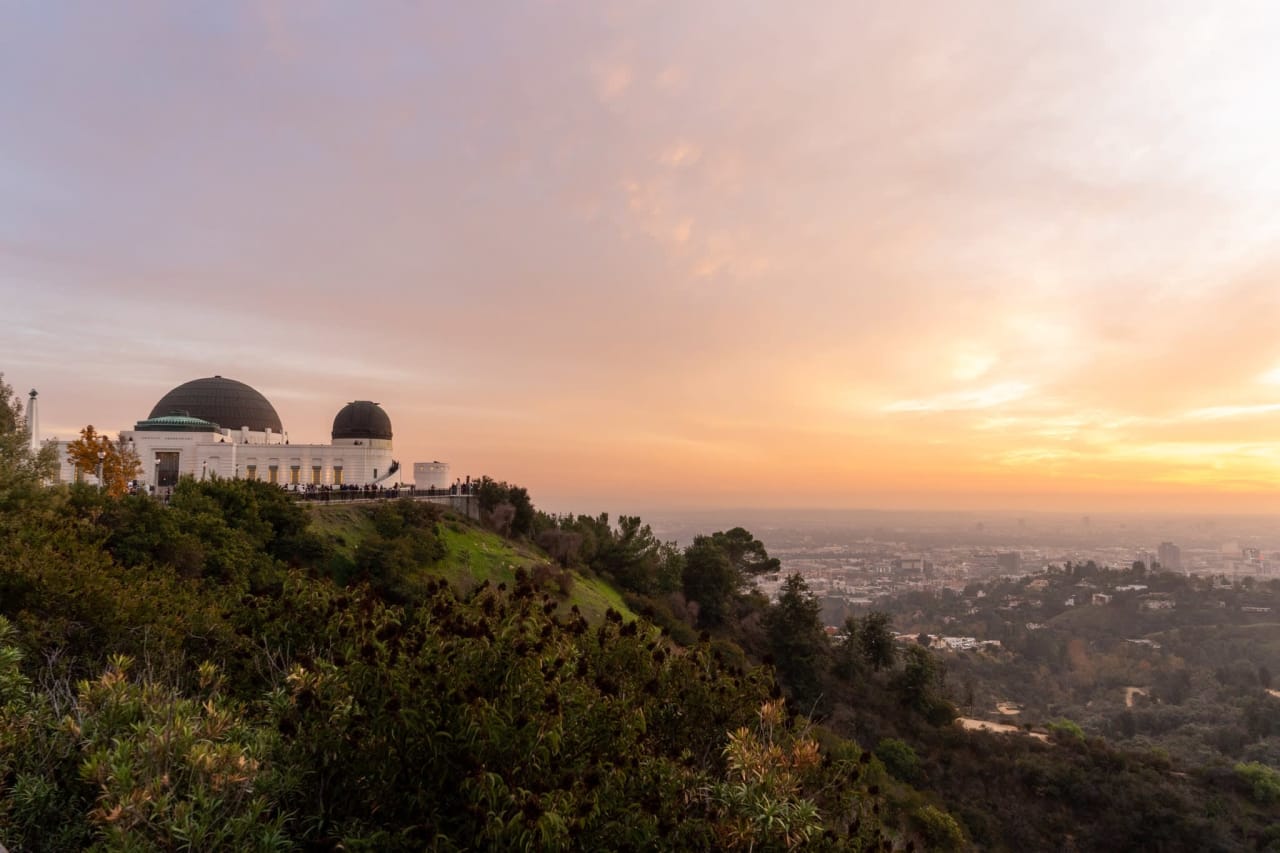 Griffith Observatory, and its surrounding park, is minutes from the city, but feels like a retreat.
I would not follow my approach to exploring Los Angeles if you can help it. I tried to do too much in too little time. It quickly became apparent that Los Angeles is at least five cities in one. Pick a part of the city and drill deeper instead of skating through all of them. Then come back, and pick a different part of the city.
Talking about traffic in Los Angeles is a tired trope (though most of the Angelenos I met loved talking about it). But where I didn't expect to find gridlock was at the airport. Bake a good amount of extra time into your arrival and departure. The new ride-share pickup system is . But you can run into delays when you're leaving, too. It took me more than 30 minutes to get from the rental car drop off to my terminal on a shuttle bus because of traffic in the airport.
On my final day. I drove to the quiet northwestern neighborhood of Sherman Oaks to meet a friend with a plane. Evan Robinson, a photographer and pilot, had a treat in store for me first. We walked a few blocks to , a modern-looking establishment on the stretch of Ventura Boulevard known as Sushi Row. On first look, the hybrid fish market and coffee shop appears to be an unremarkable if unconventional combination. But then you notice the giant tuna hanging from their tails in cabinets.
"The question to ask here is not 'what's fresh?' but 'what's interesting?'" Mr. Robinson said as we entered.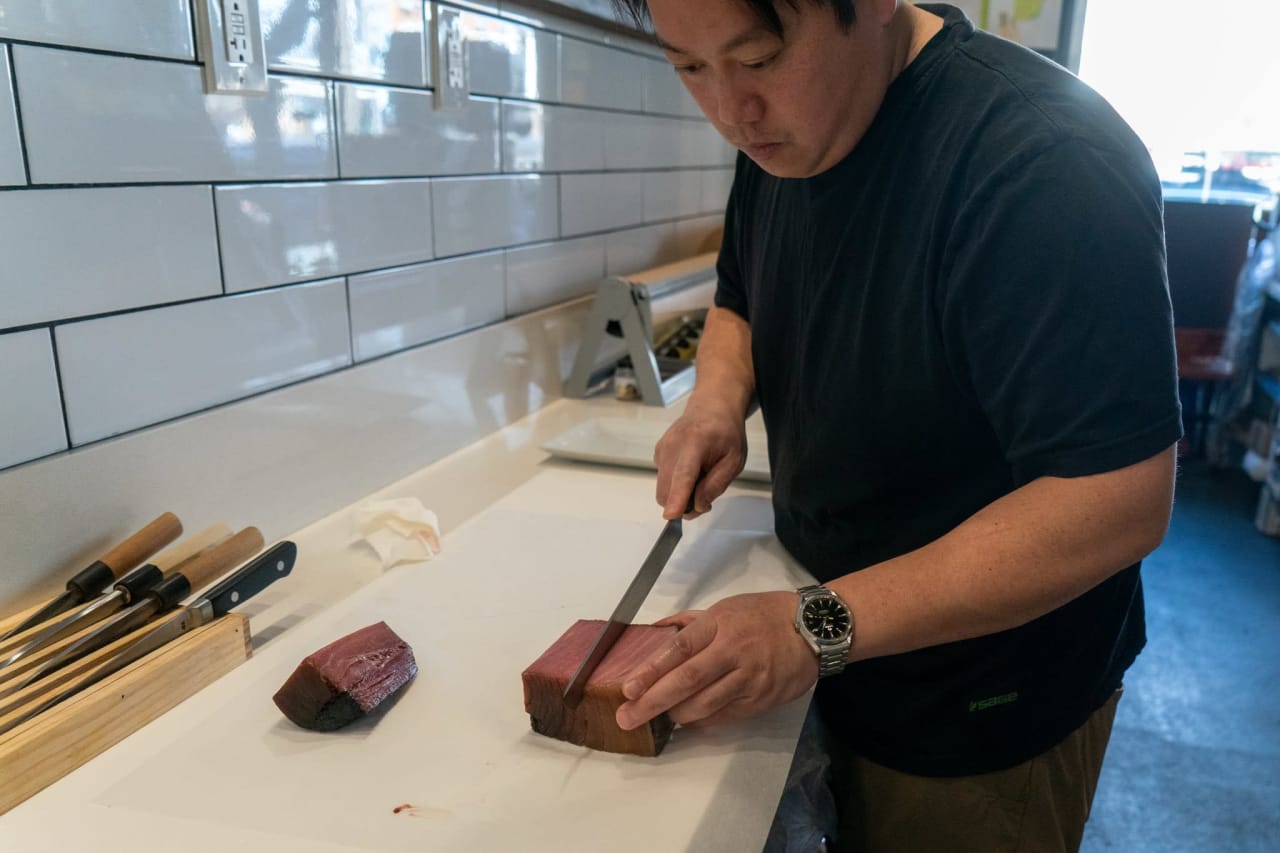 At The Joint, Liwei Liao specializes in dry-aged fish, which he works on with scientific precision.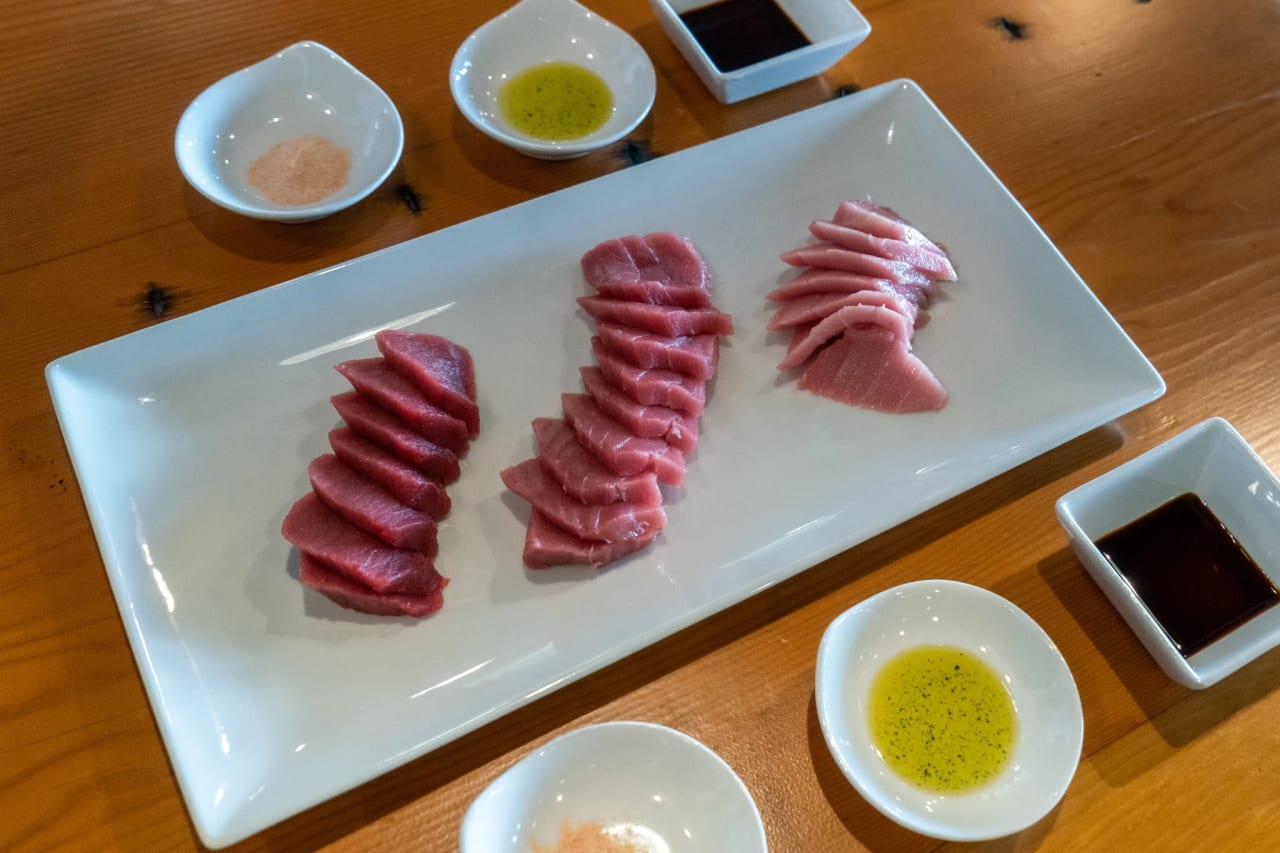 The sashimi at The Joint will make you question everything you thought you knew about freshness.
Opened last year, The Joint is more of a laboratory than a restaurant, and its founder, Liwei Liao, is the chief scientist. Mr. Liao specializes in dry-aging fish, a seemingly counterintuitive process that he says makes the fish tastier than when it's fresh. I watched as he expertly sliced a chunk of week-old Spanish bluefin tuna into three sashimi cuts and plated them in order of fattiness. It was among the best sashimi I've ever had: the textures were unlike anything I've eaten, the flavors were more subtle and any chewy tendons and ligaments had been worn into nothing over time. Little goes to waste as part of his process. After a few minutes, some of the icky bits near the skin that would be discarded by more conventional sushi chefs appeared as an accompaniment, flash fried into crispy chips.
Just 30 minutes later, I was riding shotgun in Mr. Robinson's single engine Piper Pacer, taking off from tiny Whiteman Airport. Highways and stripmalls quickly gave way to woodlands, carved apart by occasional Hollywood backlots. We made our way north, away from the ocean.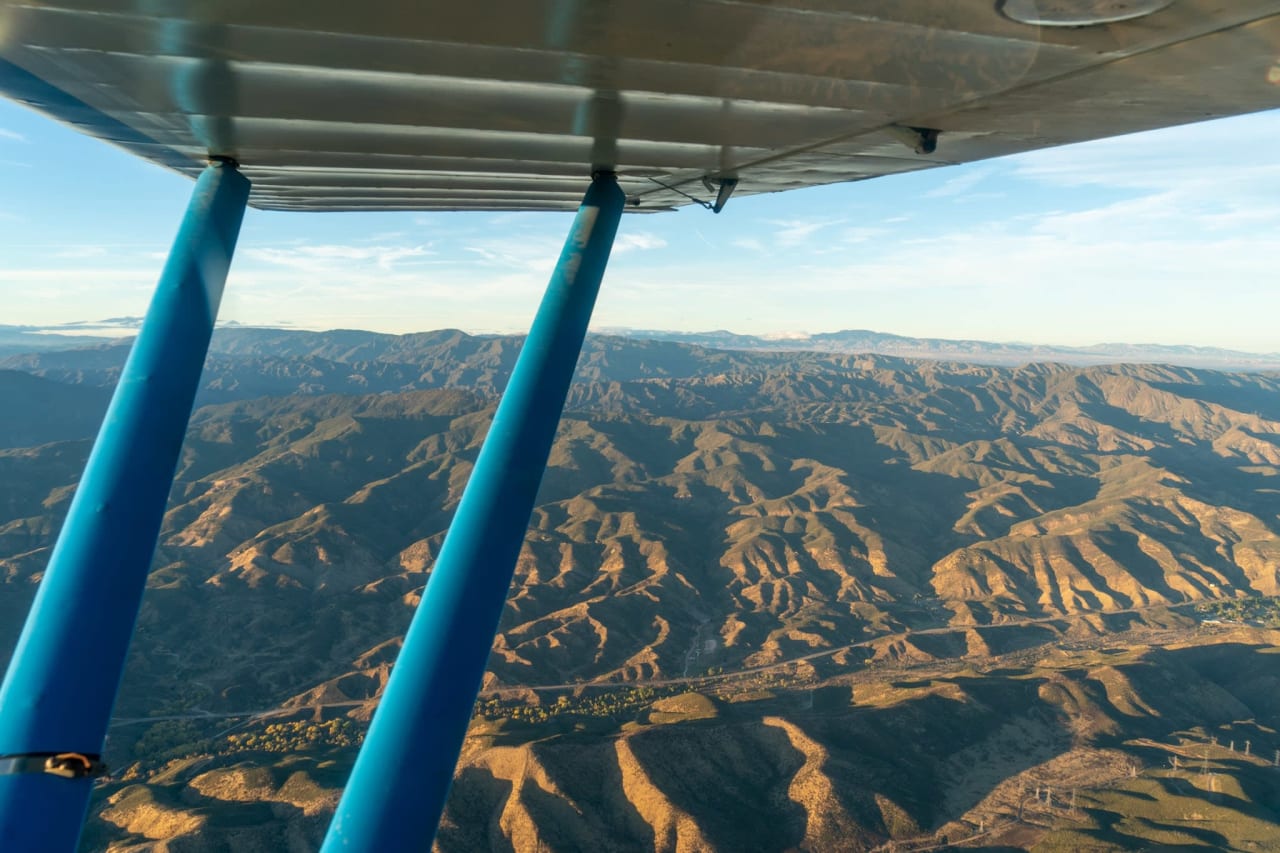 A flight over the northern outskirts of Los Angeles showed a different side to the natural beauty that surrounds the city.
The dry scrubland looked like crumpled construction paper, the swirling ridgelines thrown into relief by the late afternoon light. We reached the southern edge of a wind farm and turned back, as I strung images of my stay in Los Angeles together in my head: Dry-aged sashimi; foods of the world on full display; sunsets that set the sky on fire; this flight: each moment in isolation was wonderful, but as soon as I tried pulling threads between them, the clear image of the city as a whole collapsed. What happens in the spaces in between? Why does everything seem to be a 30-minute drive away from everything else? What does the soul of this disjointed city really look and feel like?
As we approached the city, the sun began to set and from 2,000 feet up it looked like all the concrete had been dipped in gold. Turning a corner toward the airport, the glare was so blinding, I could only make out small details in a panorama that remained mostly obscured.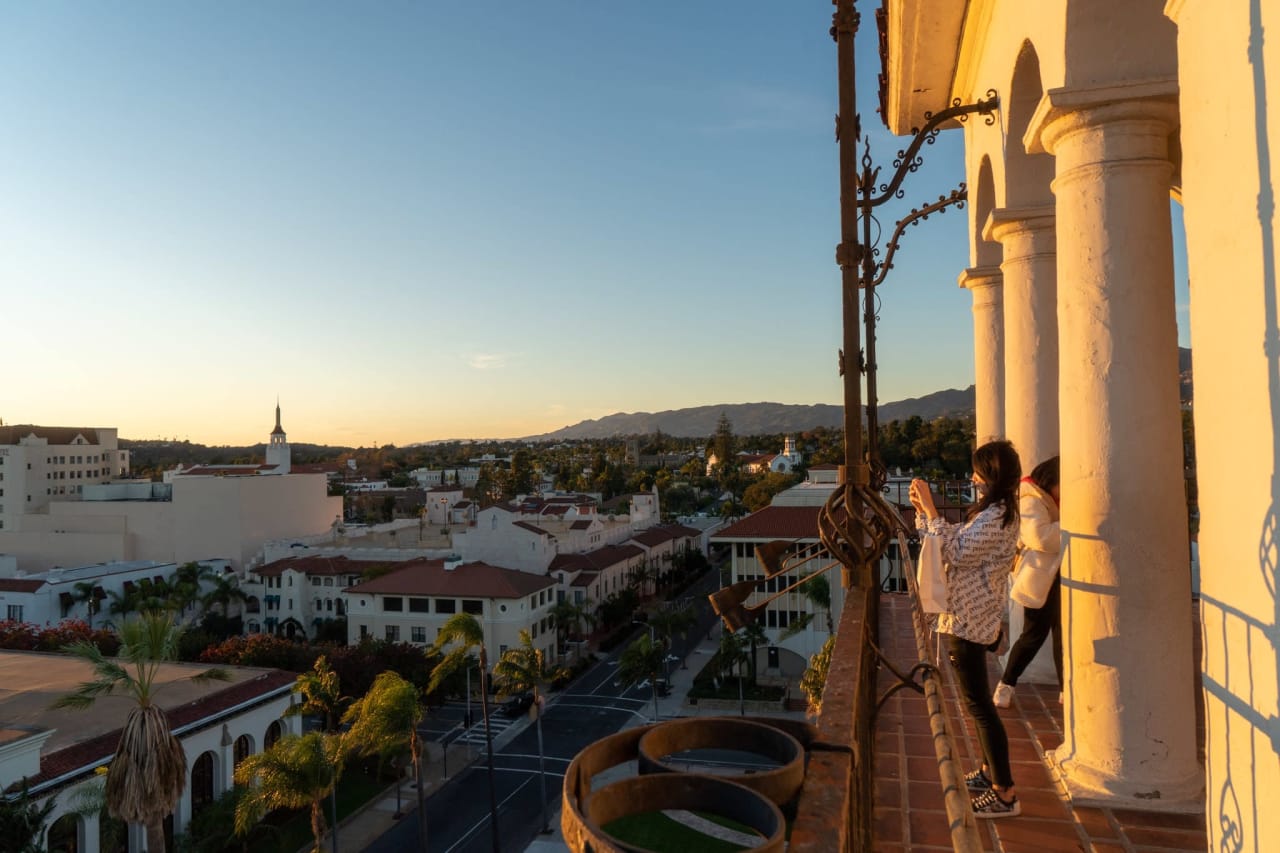 The Santa Barbara County Courthouse offers some of the best views of the city.
Almost too pretty
Shiny, expensive, hoity-toity: these are three of many synonyms I heard from Angelenos describing Santa Barbara, the beach town that has long had a reputation as a weekend escape for Los Angeles's elite. But Santa Barbara's embrace of experimentation is what put it on this year's 52 Places to Go list. There's a growing food scene that focuses on fresh ingredients and unconventional combinations and the roughly 200 wineries that call Santa Barbara County home are constantly tinkering with new blends of the more than 50 grape varieties that grow in its patchwork of microclimates.
There's a homogeneity to Santa Barbara that can feel paralyzing at first. Picture-perfect Spanish colonial homes and storefronts on every corner all seem too clean to be real. There are reminders of things you can't do — skateboarding, smoking, parking — nailed to virtually every lamppost downtown. The vacationers are overwhelmingly white and preppy. Its up-and-coming night life area is called, without a hint of irony, the Funk Zone.
Still, I was surprised to learn that there are lifelong Angelenos who will travel to Santa Barbara for tacos. With recommendations coming from every direction, I tried a few spots and will likely spark a diplomatic incident by stating that , a small space famous for its homemade salsas, was my favorite. The good-and-cheap eating options in the city do seem to start and end with its taquerias, however.
La Super-Rica is one of a handful of taquerias that compete for locals' loyalties.
That's not saying that the pricier options — of which there are more and more as the city's culinary scene grows — aren't worth it. At The Lark, a warmly lit space in the Funk Zone, I feasted on raw cuts of hamachi and perfectly roasted brussels sprouts, while sipping on a cocktail that brilliantly combined rye, agave and chocolate bitters. At I joined a winemaker's event. The pairing of wine with the restaurant's modern Indian fare was at once a celebration of the region's wine and a middle finger to anyone who has said Indian food and fine wine don't mix. The appetizer consisted of a help-yourself bowl of fresh sea urchins.
At these restaurants and others like it there was a certain level of pomp that one expects from a $100 meal, but there was a sense of fun, too. People from all over the world come and settle in Santa Barbara because the weather is good and the beaches are big and beautiful, and those people include chefs.
A smattering of new hotels has also made Santa Barbara a more exciting place. I loved , a new, understated boutique hotel close to downtown and the beach. Rooms are modern and comfortable, and the breakfast — a different dish every morning — is consistently delicious.
Santa Barbara's greatest appeal — and what has drawn travelers for decades — is the ocean. Even in the winter there are ways to get a taste of it. While my sunset cruise was canceled because of heavy winds, I got my fix at the fish market where early in the morning you can buy fresh uni (sea urchin) from the fishermen who caught it.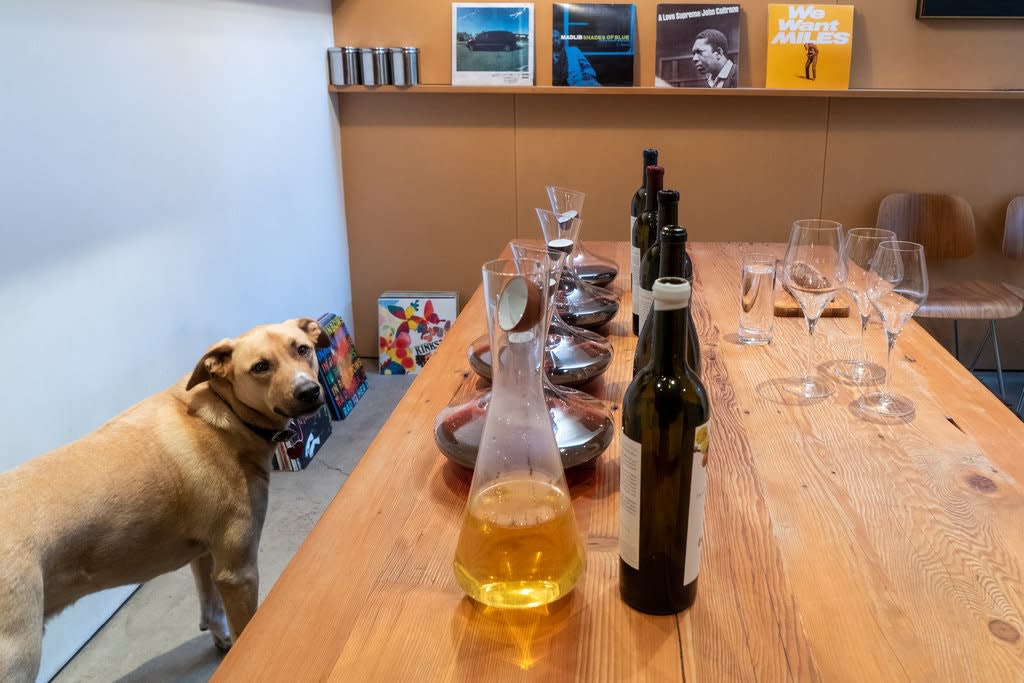 At Sanguis, wine tastings are by appointment only, but the vibe is casual.
That quirkiness extends to the wine scene, too. Downtown Santa Barbara is packed with tasting rooms run by the area's wineries, where you can sip on a wide selection of varietals, including many a grape I had never even heard of. My favorite was on the city's outskirts, where a modern gray building sits incongruously among industrial lots. This is , a winery started in 2004 by German-born Matthias Pippig and his wife, Jamie Kinser. The entire winemaking process takes place in the confines of a former architectural studio, where tastings are appointment-only and free, with the confidence that visitors will walk away with at least a bottle (I did). There's a casualness to the entire space that you don't expect with all the seriousness of winemaking. Hip-hop and jazz LPs line the shelves; tongue-in-cheek inspirational quotes are written in chalk on a giant blackboard; barrels are named and decorated with photos of vintage racecars and bicycles.
The wines' labels rarely carry the year or even the grape varietals, instead sporting names like "Verve," "The Modern," and "Two-Part Invention." Mr. Pippig, a drummer who first moved to California with dreams to make it as a musician, draws endless parallels between music and his wine. In the newsletters that go out to subscription members, Mr. Pippig often includes listening recommendations along with food pairings and tasting notes. They're remarkably specific. For the 2014 Misfit? "Bob Dylan's 'Desolation Row' covered by My Chemical Romance recorded live in Japan."
"I think of these wines as compositions, not 'blends' as they're often called," Mr. Pippig said. "There's an intention behind the ratios — you're looking for a balance that's not unlike music: the bass, treble, all of that. It can be brought out of wine."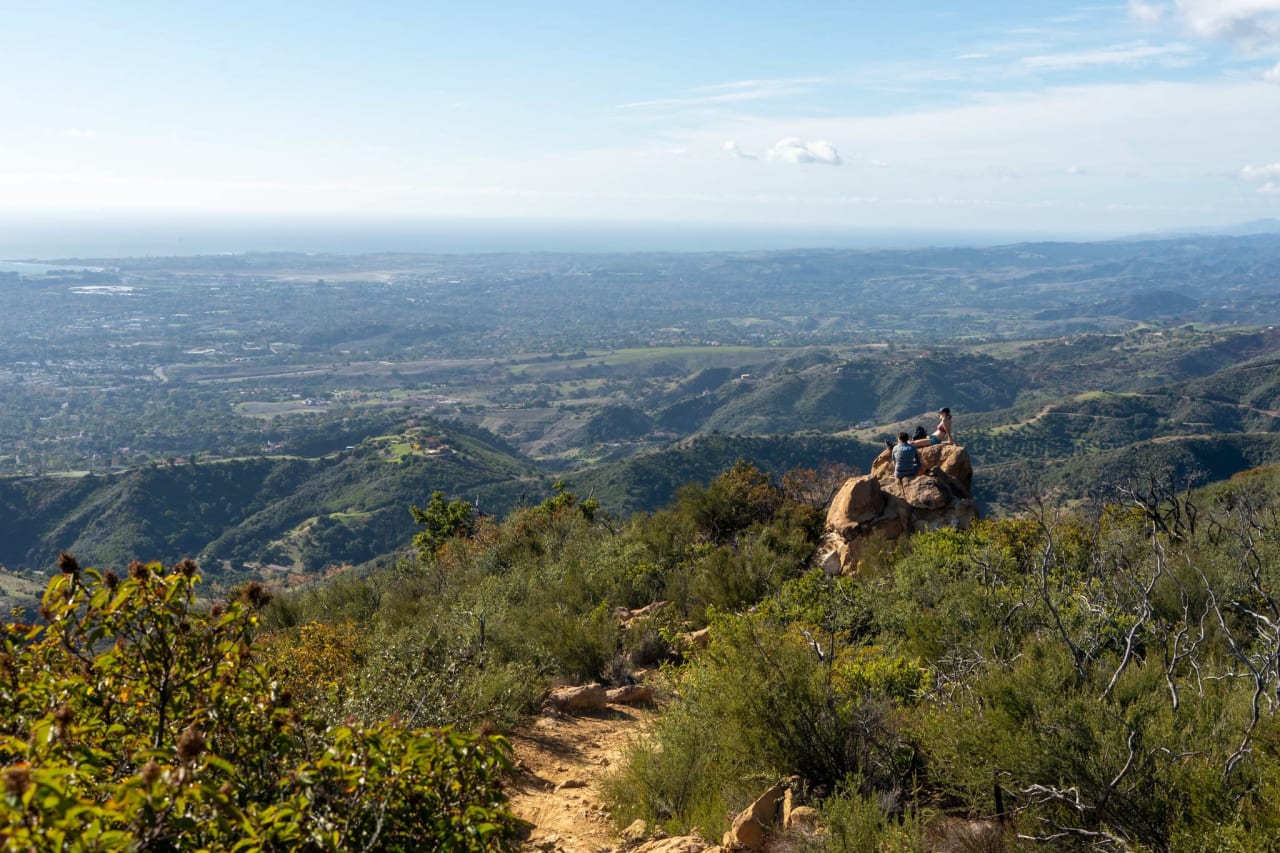 Inspiration Point is one of many trails that showcase that natural beauty of the surrounding valleys.
The beauty of the Santa Barbara coast is obvious, but driving into the interior, I saw so much more. I hiked up to the aptly named Inspiration Point, where sand-colored rock formations jut out of thick green brush like bald heads. I drove up snaking mountain roads to , once a popular stopover point for stage coaches. With its ivy-covered exterior and stone chimney, it looks largely unchanged over the past 100 years.
On my last day, I lost track of time hopping between viewpoints over the Santa Ynez Valley and almost missed my flight out of Los Angeles. Santa Barbara can sometimes feel like it's full of distractions from real life — a town made for a vacationer's carefree mind. Sometimes that's exactly what we need.