Faces of Our Community
Brighten Solar
Marine & Jeremy Schumann
We bring aesthetic solar solutions that offer forward-thinking clients a profitable investment.
Located in Santa Barbara, we deliver the latest in solar technologies and work with your design preferences, electricity needs, and your budget to create the best solar installation for you.
Meet Marine & Jeremy Schumann:
Q: How did you start your business?
A: Shortly after Jeremy and I moved to Santa Barbara (from France), we started dreaming about starting our own company. We would talk about entrepreneurial stories and how fulfilling it must feel to really make a difference and be able to measure our impact. We are both very driven individuals and ecoconsciousness has always been part of our culture at home. Energy is a fascinating and dynamic sector that needs to be reshaped in light of today's biggest threat: Climate Change. Brighten Solar started with an observation: how come we see so very few solar panels in a place like Santa Barbara, known to be a very progressive and eco friendly town, and receiving so much sunlight year-round. Jeremy and I have very complementary skill sets and felt like, with hard work, we could create something great and meaningful. I hold a Master's degree in Marketing and Jeremy, two Master's degrees, one in mechanical engineering and one in Industrial engineering. Together we felt very passionate about solar energy and decided to conduct a thorough market research to understand why solar was not more implemented in Santa Barbara. After a lot of research and interviews with key organizations and stakeholders in town, we formulated our value proposition and decided to launch a solar energy company, designed to meet our local market needs. A company that would bring education, aesthetics and flexible solar solutions and integrity together, and that would serve forward-thinking property owners, willing to reduce their carbon footprint while making a profitable investment. Brighten Solar was born!
Q: Why did you start your business?
A: Thinking back, everything happened quite fast but also very organically. After years in the private sector, our desire to start our own company became clear. The market research we conducted over a few months was thrilling, not only because we were meeting inspiring leaders but also because we were starting to believe that we could be part of the solution. Today, seven years later, our passion and commitment for sustainability is bigger than ever. Brighten has allowed us to dream bigger. We can measure our impact every day, and the smiles on our customers' faces is a reward that never gets old.
Q: What makes you the most passionate about your work?
A: Knowing that we are part of the solution, that we are working toward something that makes sense. Solar is such an neat technology that not only allows people to reduce their carbon footprint, but saves property owners thousands of dollars. We have built a company with strong values and although we remain a small team, every single one of us shares the same values. Our team is probably what we are the most proud of.
Q: What are your favorite projects/products?
A: Every project is different, this is what makes our job so interesting. Every home, every building comes with a different set of challenges. I think the Santa Barbara Airbus and the Deckers Brands projects will always remain very special for us. Our very first clients, Ann and Richard, who hired us knowing that we were just starting, will always be our favorite project I think
Q: Where can we find you on a weekend or your day off?
A: You can find Jeremy and I at the beach with our little one. She loves nature and is obsessed with the beach. Living in Santa Barbara, by the ocean, is a dream come true for two kids coming from the coldest and rainiest part of France!
Q: How long have you been in business?
A: This is our seventh year in business
Q: Pro tip
A: Unlike other home improvements, solar is a financial investment. The average payback period is about 7 years, with an internal rate of return of 12%. Solar still qualifies for the 26% Federal Incentive Tax Credit (ITC). Any home upgrade that needs to be done in order for solar to be installed (such as roofing or electrical upgrade) also qualifies for the ITC. In terms of financing, we do not recommend anyone leasing their solar system. Instead, for someone looking for a "no-money down" option, great unsecured loans are available, with APRs starting at 1.99%.
Finally, as power shutdowns are becoming more and more frequent, pairing a solar system with a battery backup system can be a great solution for people concerned about prolonged power outages. Batteries are safer now and more affordable than they used to be only a few years ago.
Q: Connection to Santa Barbara, why do you work/live here?
A: We chose Santa Barbara to be our home and couldn't have dreamt of a better community to raise our family. We first landed here nine years ago, not really knowing what to expect. Since then, we formed incredible friendships and found a very supportive community. It is definitely a privilege to live in Santa Barbara and we feel very grateful.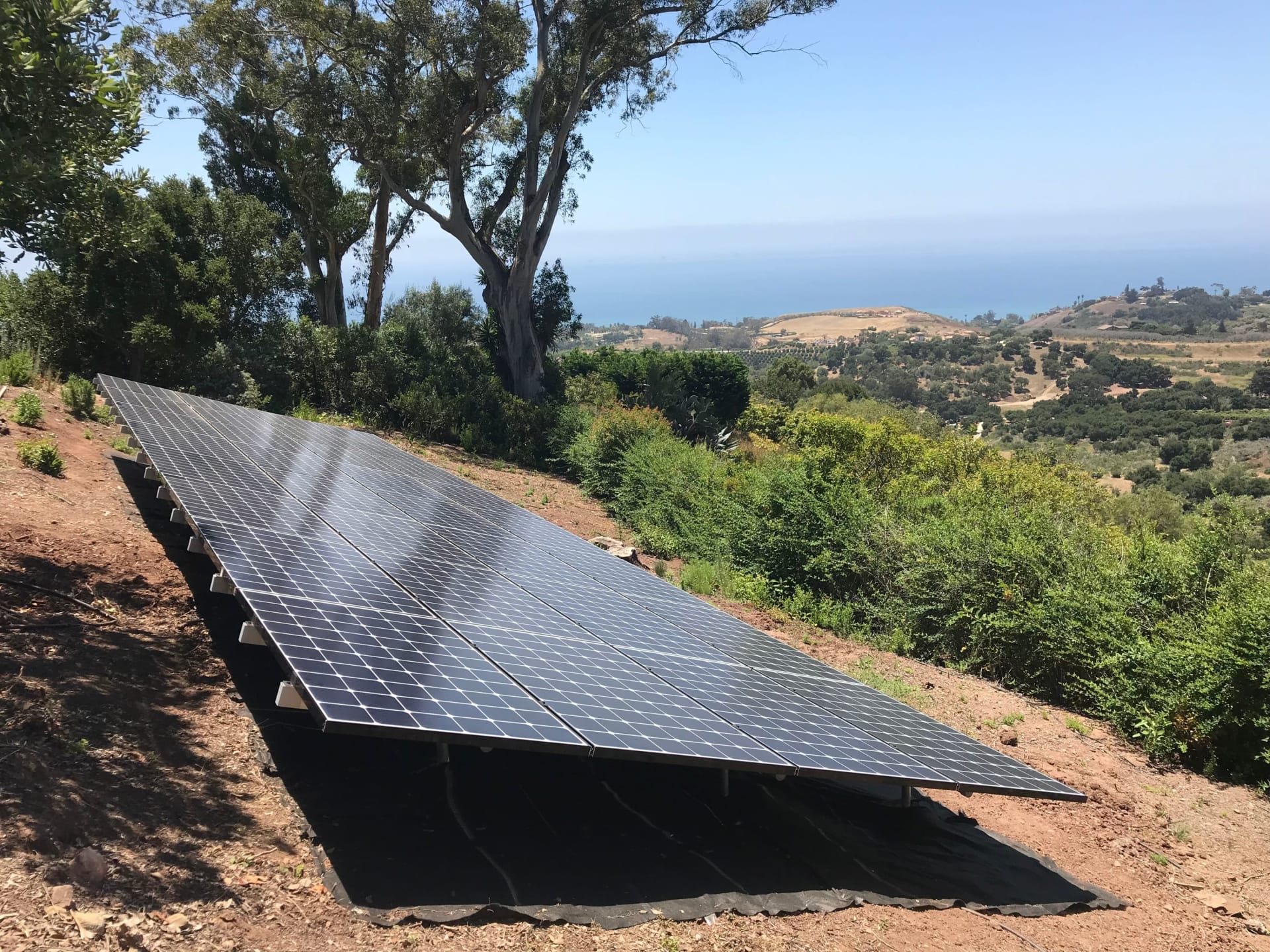 Store location
5380 Overpass Road in Santa Barbara. This too was meant to be, considering the time we spent walking shelter dogs around that area long before starting Brighten!
Contact & social media
You can contact the Brighten Solar Co. office at 805-708-3654 or via email at [email protected]. We also have a Contact Form on our website www.brightensolarco.com if one has any questions.
You can subscribe to our newsletter (via our website) to receive solar and storage related news, or follow us on instagram (handle: @brightensolarco)