By Freda Moon, New York Times Travel | Reference Source
With its Mission-style facades and showy tropical foliage, Santa Barbara could be a commercial for the California good life. It can be easy to underestimate the struggles of a place so seemingly flawless. But Santa Barbara has had a tough few years. From the devastating wildfires in 2017 and 2018 to the flooding and mudslides that followed, the county has experienced more than its share of trauma. Yet if it weren't for the charred chaparral faintly visible on the surrounding hillsides, the average visitor might never know. This is, after all, a place that's good at reinventing itself. That spirit is on display at the new
Hotel Californian
, which sits on the site of a grand beach resort that was destroyed — just weeks after opening — by the 1925 earthquake that defined modern Santa Barbara's architecture and character. Smack in the center of Southern California's spectacular coastline, the county is surprisingly rural. In its multigenerational ranches and farms, its remarkably undeveloped public beaches, and the expansive Los Padres National Forest, Santa Barbara County offers glimpses of California before it got crowded.
36 Hours in Santa Barbara County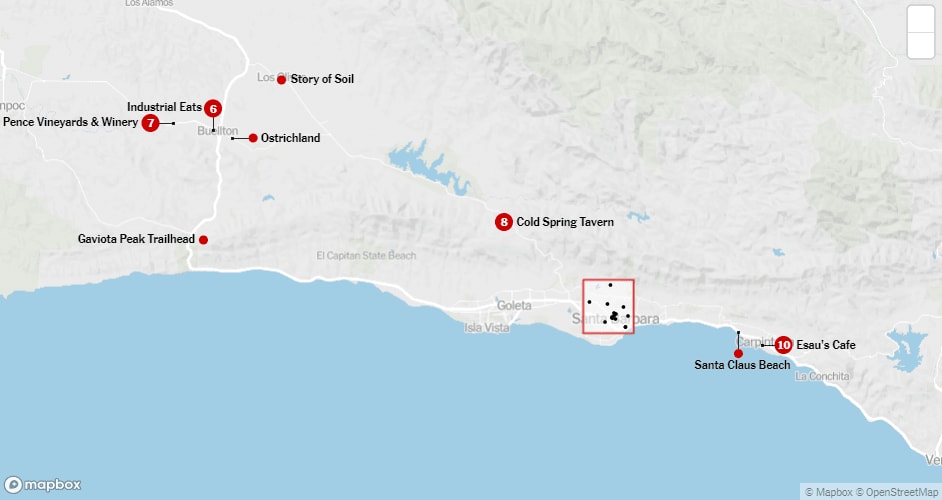 Friday
1) 3 p.m. Sweet stroll
Start your visit in the city of Santa Barbara with a cone at
Rori's
, a decadent ice creamery in the
Santa Barbara Public Market
, which serves organic ice cream in flavors like Black Pepper Pistachio, Root Beer Float or vegan (coconut milk-based) Tropical Wild Berry. Cones start at $5.50, so take advantage of the kid's happy hour (3 to 5 p.m. daily, when cones are two for the price of one). Then, drive up past the historic
Old Mission Santa Barbara
, a striking colonial structure representing a tragic history, to the 78-acre
Santa Barbara Botanic Garden
, established in 1926 and devoted to pre-Columbian native species. Shake off your travels with a walk along the garden's meandering pathways, alive with the sound of bird calls and chirping insects. Find a shady spot beneath a coast live oak or coastal redwood and appreciate the plant life — species like the Russian River Coyote mint and the Canyon Prince giant wild rye — that thrived in the area's temperate climate before the arrival of the Europeans.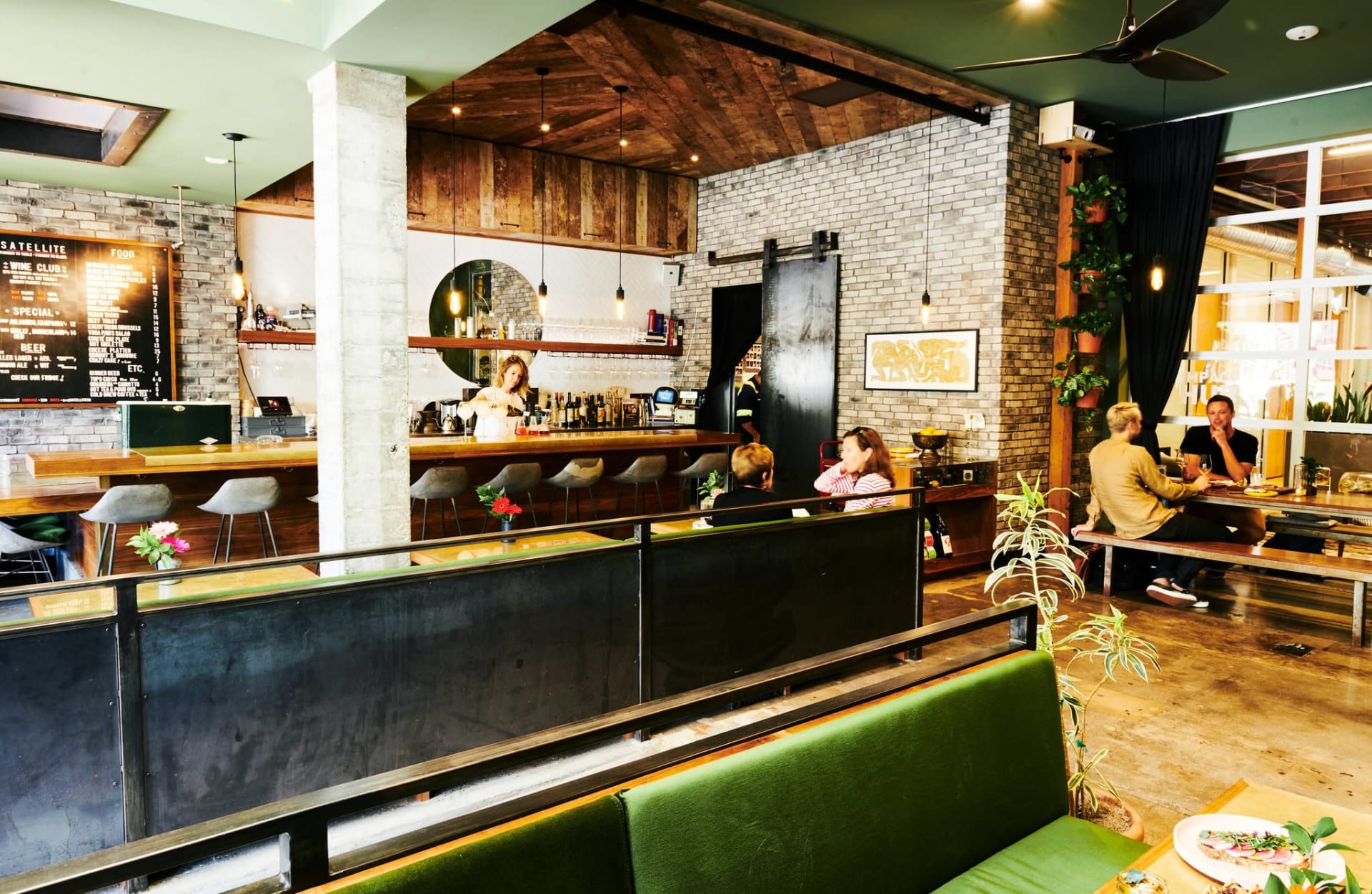 Satellite is an outer-space-themed restaurant and wine bar that serves distinctly California dishes.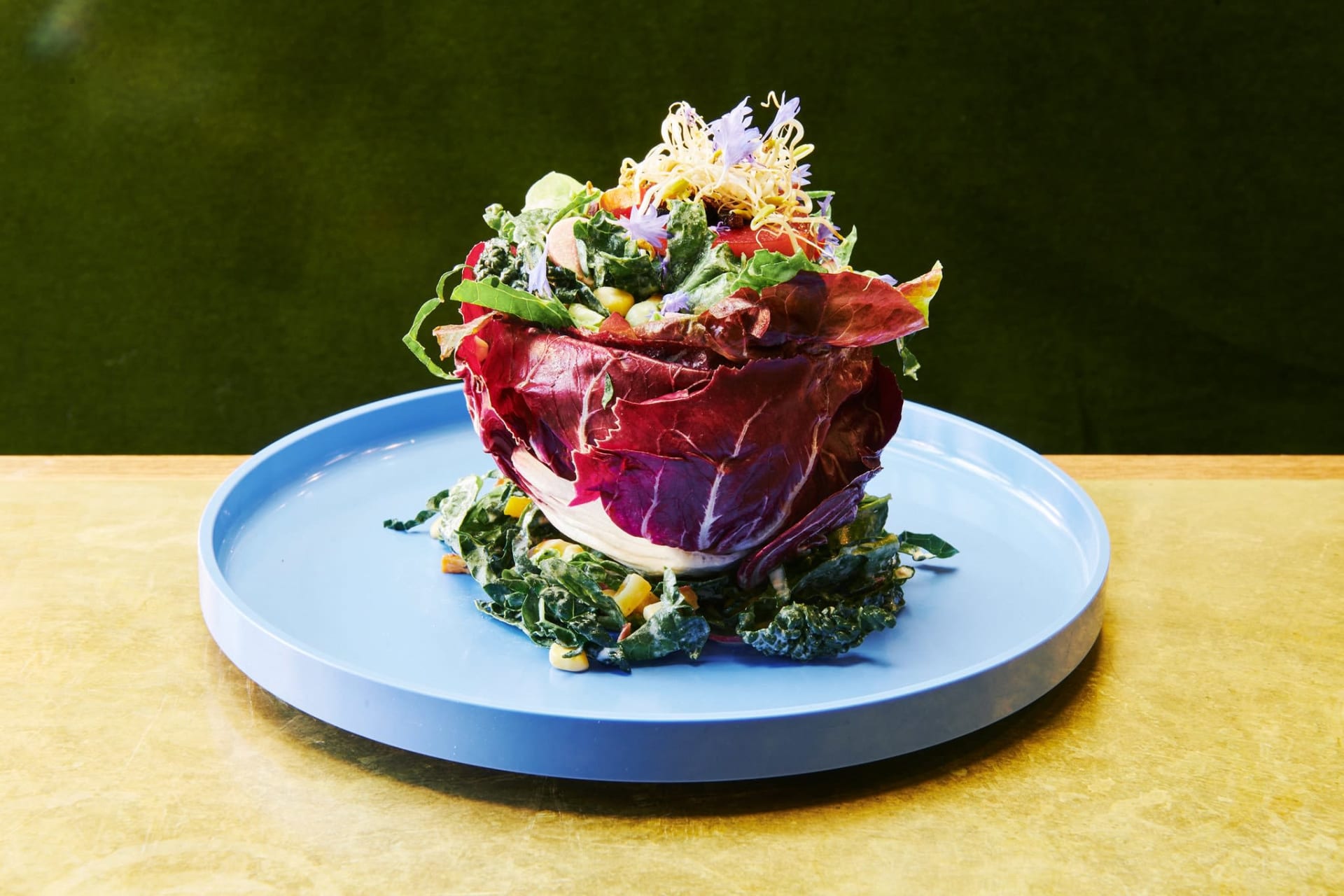 The Yoga Pants Salad at Satellite.
2) 5 p.m. Magic Hour
Head downtown and explore the city's paseos, plazas and parks, including Alameda and Alice Keck Park Memorial Garden, twin parks and gardens that, combined, include a koi pond, exotic trees like Canary Island date palms and Hong Kong orchids, and
Kid's World
, a community-constructed wooden play structure that overflows with shrieking children. On State Street, Santa Barbara's main drag, stop for Apéritif Hour ($10 Sunshine Spritzes, made with Aperol alternatives like Cocchi Rosa and Cappelletti aperitif wines) at
Satellite
, an outer space-themed restaurant and wine bar with a menu designed by the chef Emma West of the beloved, now shuttered, Julienne Restaurant. Satellite serves sexy, distinctly California dishes like Rad Toast ($7), the Yoga Pants Salad ($16), and Smoked Shrooms ($16) in a casual, bar-like setting with a mod décor of avocado-colored bench seats, framed newspaper clippings of the moon landing, and film reels of early rocket launches and moon walks projected on the wall. While the food is meat-free and the wines lean "natural," Satellite doesn't take itself too seriously. Then, snag a bike at downtown's
Bikes to Go
rental station ($10 per hour, $35 per day) in the open-air Paseo Nuevo mall, and cruise downhill to the pier for the ultimate pre-dinner show: a Pacific Coast sunset.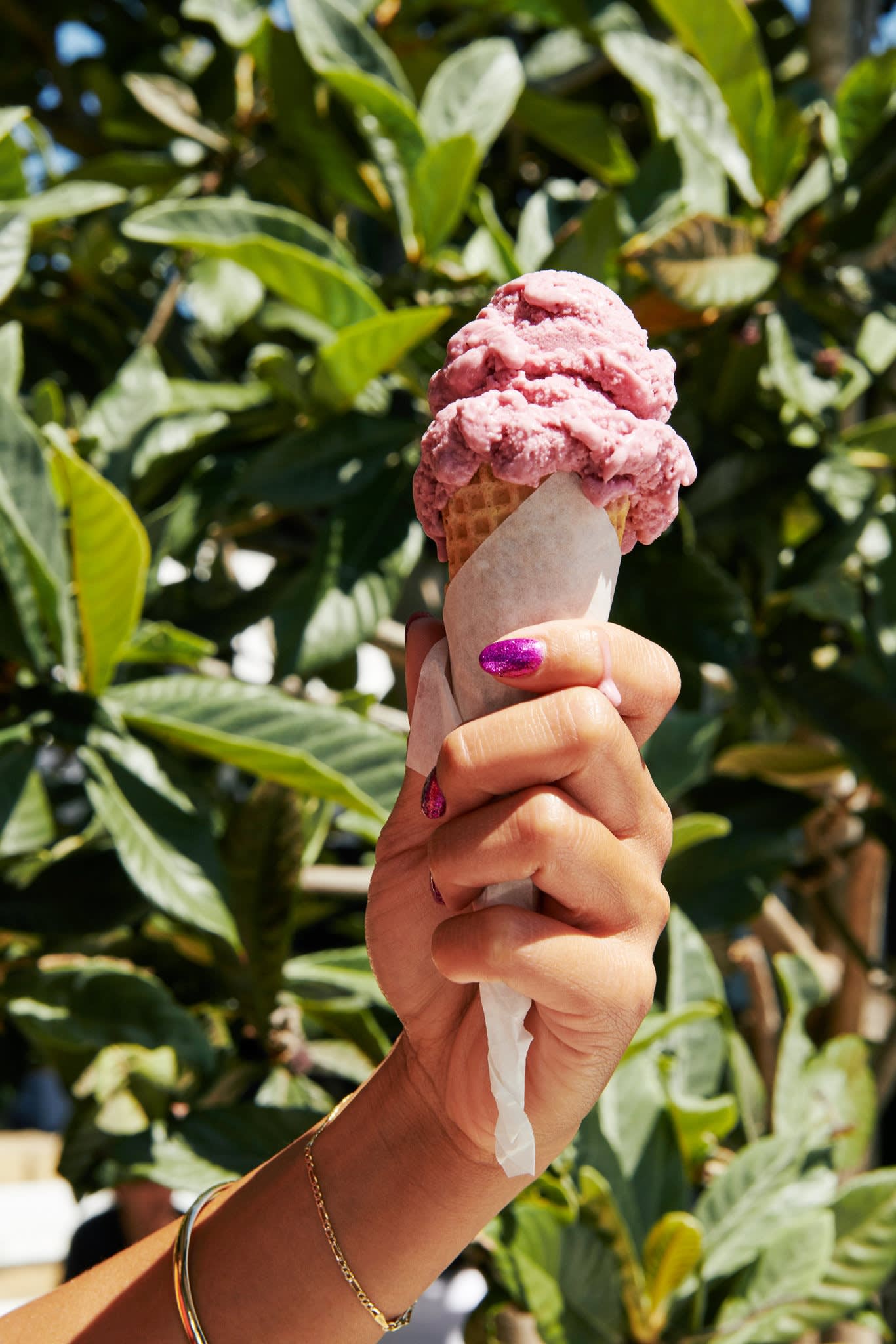 A cone of vegan Tropical Wild Berry, made with coconut milk, at Rori's, in the Santa Barbara Public Market.
3) 8 p.m. Special occasion
The 10-table, largely unadorned dining room at
Yoichi's
is deceptively modest. It feels like stepping into the home of an extraordinarily gracious host. It makes sense, then, that this kaiseki-style restaurant, which specializes in multicourse meals, is a mom-and-pop establishment. Opened in 2015, the restaurant, named for its chef and co-owner Yoichi Kawabata, serves a seven-course, $125 prix fixe menu that builds on itself — from the zensai (appetizers) to owan (soups), the mukouzuke (chef's choice sashimi) to the yakimono (grilled dish) and mushimono (steamed and simmered dish). Small plates arrive one after the next, featuring complex dishes with clean flavors, including the Jell-O-like water shield and briny snails, pickled plum in bonito broth and egg custard soup with rockfish. By the time you're sipping a complimentary glass of yuzu sake at the end of your meal, the cumulative effect of the experience feels more like a brilliantly executed concept album than mere nourishment.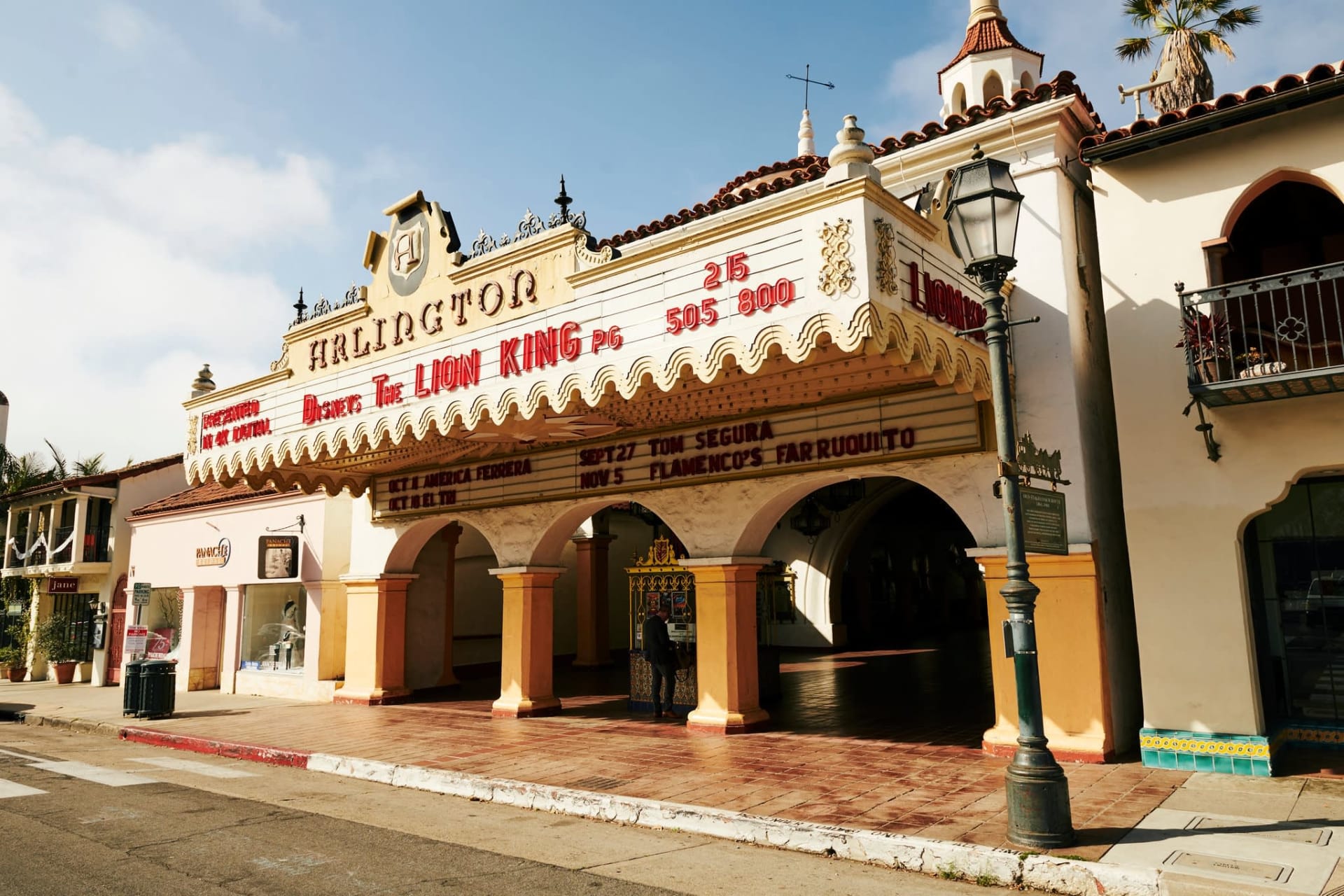 The Mission Revival-style Arlington Theater is a former cinema that still sometimes hosts films and festivals.
Saturday
4) 8 a.m. Burritos and books
Get an early start at
Super Cucas
, an out-of-the-way Mexican grocery with a meat counter, dried chiles in bulk, and 20 varieties of breakfast burrito — including an Energy Burrito stuffed with the region's signature meat, beef tri-tip, vegetables, scrambled eggs, cheese, potatoes and housemade salsa ($7.99) — starting at 6 a.m. Alongside a Mexican Coke, they're an ideal early morning, pre-surf session, eat-by-the-beach breakfast. Then, head to
Chaucer's Books
, an independent bookstore so charming it warranted a love letter (in
essay
form) from the writer Pico Iyer. Pick up a beach read, a book on local history, or let the kids loose in the store's children's corner, which feels like a literary wonderland for little people.
5) 10 a.m. Go Go Gaviota
Drive north along a stretch of Highway 101 that includes two of California's most stunning state park beaches, Refugio and Gaviota. For a mellow morning paddle along this spectacular, white sand and palm-tree-adorned coastline, schedule a kayak tour ($119 per person, lunch included) — at least a week in advance is recommended — with
Santa Barbara Adventure Company
. After a quick beginners-friendly tutorial, float over forests of kelp while learning about Pacific marine ecology and watching for seals, dolphins and brown pelicans. Or, if you're up for an arduous but rewarding hike, take the
Gaviota Hot Springs-Trespass Trail
($2 parking fee), which climbs over 1,000 feet through wildflowers and blooming agave plants for a dazzling view. Or, skip the hike and head for the "hot springs" — lukewarm, crystal clear, sulphuric-smelling and shaded by a single palm.
6) 2 p.m. Wind into wine country
Cut inland across a landscape of giant boulders, chaparral and ranchland until you reach Buellton, a town that was, until recently, most famous for a nearly century-old road food institution,
Pea Soup Andersen's
restaurant. In the last two decades, the Santa Ynez Valley's wine-growing reputation has begun drawing not only wine enthusiasts, but the restaurants to feed them. For a lunch of oysters topped with fresh uni ($8), white shrimp with pancetta, chile and garlic ($13), beef tongue pastrami Reuben ($16), smoked pheasant with basil and citrus ($14), and exotic wood-fired pizzas (think skirt steak, tomatillo and queso fresco, $15), stop into
Industrial Eats
, which is named for its location in an industrial park surrounded by breweries, wineries and distilleries.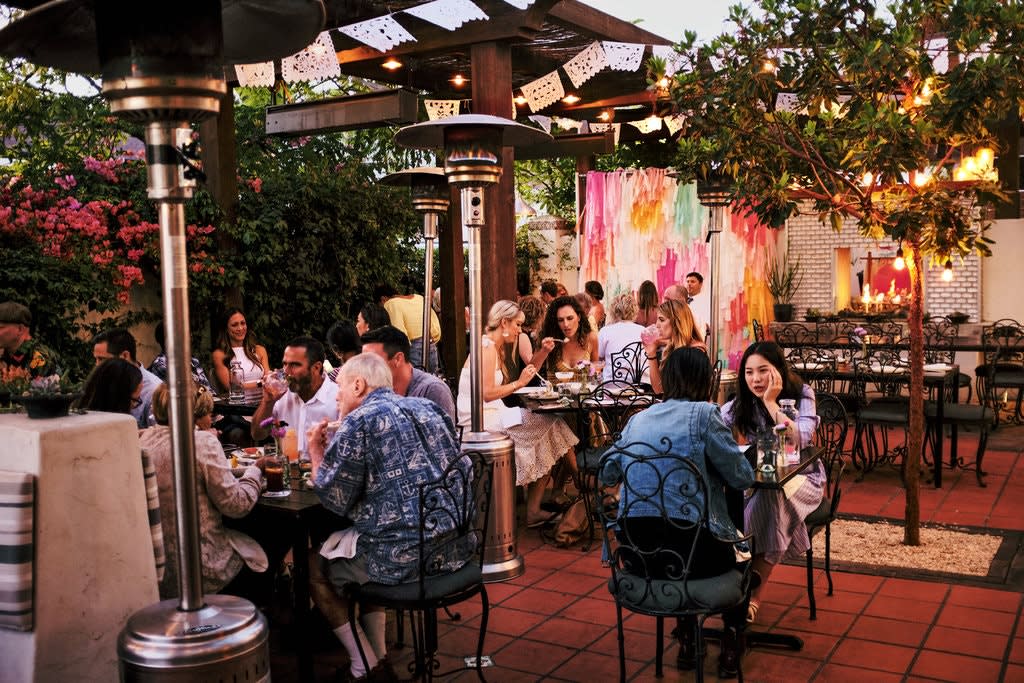 The patio at Loquita, where Spanish dishes like pan con tomate and pulpo are served.
7) 3:30 p.m. Wine country, itself
Pence Vineyards and Winery
, on Route 246, is a working cattle ranch that grows Burgundian varietals, mostly pinots and Chardonnays, on a creatively landscaped vineyard with a pond, trails and an appointment-only tasting room. If you're not a drinker, or traveling with children, head instead to Solvang's
Ostrichland
($5 admission), where you can buy a pan of bird feed ($1) for the farm's 100 or so ostriches and emus. The gift shop sells the bird's oversize eggs. Then, hop over to Los Olivos, an impossibly cute town that overflows with tourists on weekends, and stop into
Story of Soil
, a tasting room manned by the husband of the winemaker, Jessica Gasca, who focuses on single vineyard, single varietal wines, including a standout Gamay, that have a cult following.
8) 6 p.m. Dine Outside
Drive down Route 154 from Los Olivos, past Cachuma Lake, to
Cold Spring Tavern
. This former creekside stagecoach stop at the top of the San Marcos Pass has been a staple of California road trip culture since 1865, before the automobile was invented. A wooden shack draped in ivy and filled with Old Western charm and tchotchkes, from taxidermy to wagon wheel chandeliers, serves the region's famed tri-tip grilled over red oak and has live music in its backyard, where picnic tables offer extra seating. Or, for a more cosmopolitan dining experience in the city of Santa Barbara, sit beneath the strung lights on
Loquita
's side patio, where quintessentially Spanish dishes like pan con tomate (pan de cristal — a ciabatta-like Spanish bread — with grated tomato, garlic and herbs, $9) and pulpo (Spanish-style octopus with black garlic aioli, lemon vinaigrette, potato purée and pickled red onion, $22) mix with the gauzy atmosphere in ways both intoxicating and magical. The restaurant, which is one of the restaurateur Sherry Villanueva's many hits (including popular local spots like Helena Avenue Bakery, The Lark and Tyger Tyger) also offers a drink list heavy on Spanish wines, sherries, vermouths and gin and tonics. Don't miss the Loquita Martini with an El Bulli olive ($15).
9) 7 p.m. History theater
Built in 1930, on the site of the once-grand Arlington Hotel,
the Arlington Theater
in the city of Santa Barbara was built in the era's characteristic Mission Revival style. A former movie theater that still sometimes hosts films and festivals, the 2,000-seat Arlington features a Robert Morton pipe organ that rises onto the stage during musical performances. While the Arlington's interior is painted to create the illusion of a Spanish night, its stage flanked with illustrated villas and stars overhead, the
Santa Barbara Bowl
sits on a hillside dotted with Southern California mansions. A venue with an ocean view, the Bowl was funded by the Works Project Administration and carved into a former quarry in the 1930s. Designed to accommodate the Arabian horses that are a staple of the annual Fiesta celebration, the venue now hosts a mix of big name acts — from the Raconteurs to Lionel Richie — and other performances and events, like the Santa Barbara Mariachi Festival, from spring into the fall.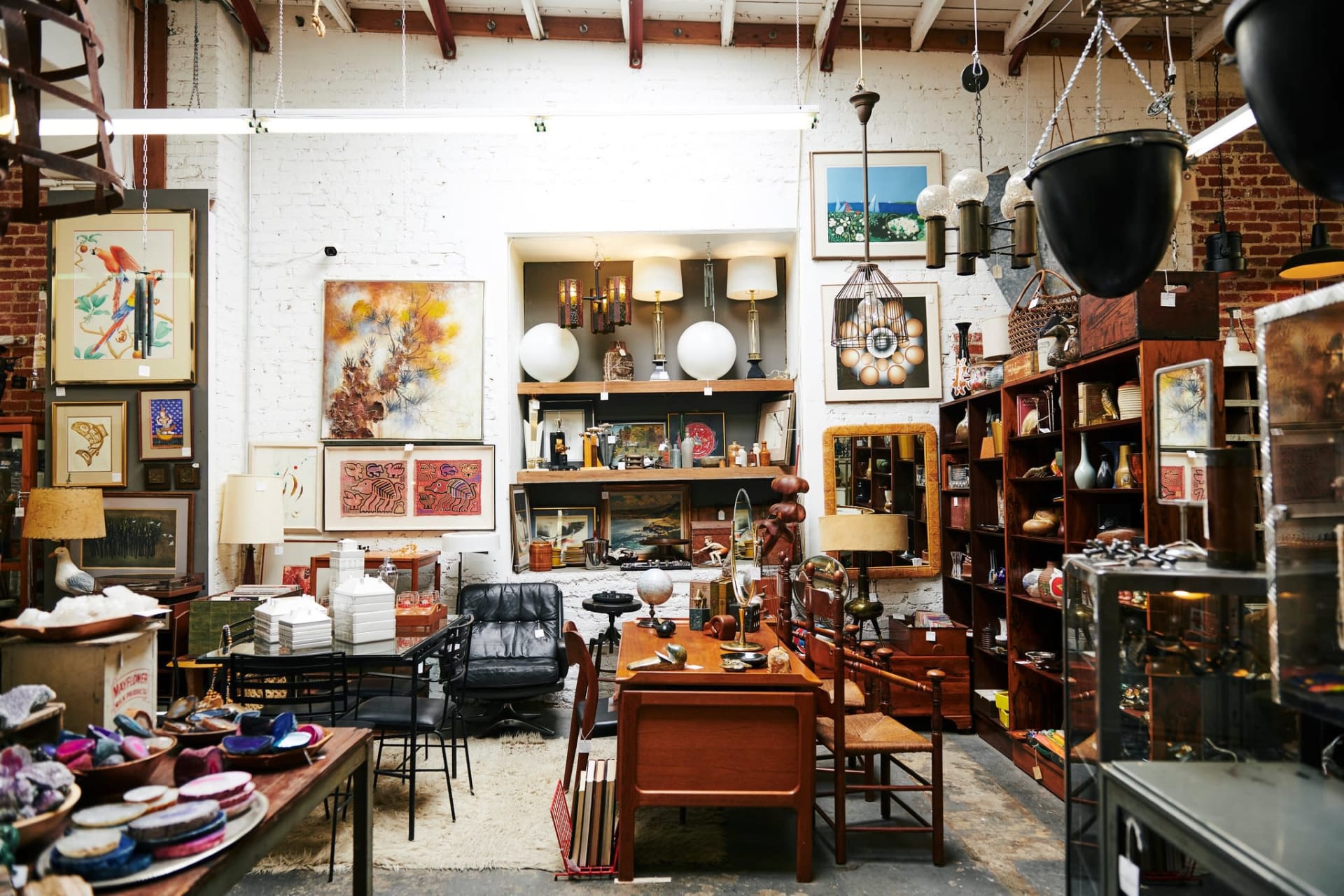 The Blue Door sells vintage and antique furnishings, houseware, clothes and more.
Sunday
10) 9 a.m. Surf's up
Carpinteria's
Esau's Cafe
is an old school breakfast diner with bright orange vinyl booths, housemade muffins cooling on the ledge of an open kitchen, hot sauce containers crowding the diner counter, and — because this is California — surf posters on the wall. A nearly 90-year-old institution, Esau's serves heaping platters of diner classics along with some California-centric riffs, like the roasted Pasillo chile relleno omelet ($13.95) and the so-called "Basic Breakfast" with a mahi-mahi steak and eggs ($11.95) in place of the more conventional beef steak. After breakfast, head up the coast and across the train tracks to join the locals at Padaro Beach — or, as it's known here, Santa Claus Beach.
11) 1:30 p.m. Made in Santa Barbara
The Funk Zone's
Seaside Makers Collective
opened last year in response to the economic toll the city's recent hardship was taking on the area's artists and artisans. The shop's handmade crafts, jewelry and body products — including a skin-care line made from the byproducts of the local wine grape industry, and jewelry made from local sea glass and abalone shells — are great gifts and souvenirs, evoking Santa Barbara's personality while supporting its craftspeople. Around the corner,
The Blue Door
is a multistory emporium of vintage and antique housewares, furniture, clothes and more. Along with its eclectic used goods, the shop also carries some Santa Barbara-made products, like a line of beach-inspired candles from
Santa Barbara Apothecary Company
, in scents like San Isidro Lavender, Surfer's Point, Ellwood Eucalyptus, and, amusingly, Montecito Money.
Lodging
With a look designed to reflect California surf culture nostalgia,
Kimpton Goodland
(5650 Calle Real, Goleta) has yoga mats and turntables in every room (starting around $250), an on-site record shop, bikes to borrow and a courtyard pool.
Part of Shelter Social Club, a small local chain of vintage motels that have been stylishly rehabbed,
Agave Inn
(3222 State Street, Santa Barbara) is a basic, budget-friendly option with a bit of character and 13 rooms starting at $139.
For affordable, family-friendly accommodations near the beach, look for Airbnb rentals in the Mesa neighborhoods — East, West and Alta — which have gorgeous views, attractive historic homes, and are close to the Douglas Family Preserve and Hendry's Beach, and not far from downtown. Prices for an entire cottage or guesthouse start in the mid $100s.